Tammy Baldwin was elected to the U.S. Senate on November 6, 2012, winning a hard-fought race against former Wisconsin Governor Tommy Thompson. She is Wisconsin's first woman to serve in the U.S. Senate and is the first openly gay member elected to the Senate.
Born in Wisconsin and raised by her grandparents, Tammy graduated from Madison West High School and went on to double-major in political science and mathematics at Smith College. In 1989, she earned her law degree from University of Wisconsin. In 1986, while in law school, she served on the Madison Common Council, filling an aldermanic vacancy.  Tammy was also elected to the first of four terms (1986-1994) on the Dane County Board of Supervisors.  In 1992, Tammy was elected to the Wisconsin State Assembly as a State Representative for the 78th District, serving three terms.
In 1998, Wisconsin's 2nd Congressional District shattered the state's glass ceiling and elected Tammy Baldwin as the state's first female member of Congress and the nation's first openly gay challenger sent to Congress. She served seven terms in the House of Representatives, serving on the Budget Committee, the Judiciary Committee, and the Energy and Commerce Committee.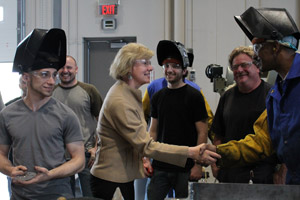 Shortly after Tammy was first elected to Congress, she voted against letting Wall Street and the big banks write their own rules; Senator Baldwin was one of only a handful of members of Congress who voted no on repealing the Glass-Steagall Act.  A champion of middle-class economic security, Tammy helped craft the landmark Patient Protection and Affordable Care Act and led the effort to include the provision that now allows young people to remain on their parents' insurance plans up to age 26.  She was the lead sponsor of the Buffett Rule to ensure tax fairness and fought for student loan reforms to make higher education more accessible and affordable. She has strong record of fighting against unfair trade deals and has worked across party lines with Republicans to impose strong tariffs on China to protect Wisconsin's paper manufacturing jobs.  And Tammy has a strong record of working hard for Wisconsin's veterans — making sure their service and sacrifice is honored by ensuring adequate funding for veterans' health, education, and job-training programs.
Throughout Tammy's career in public service, she has always fought for fairness, equality, and opportunity because she believes that with each passing year and each generation, our country must become more equal – not less. In Congress, she has been a strong advocate on the issue of bullying and suicide among LGBT youth and has helped lead efforts on hate-crime legislation, marriage equality, "Don't Ask Don't Tell," and the Employee Non-Discrimination Act.
In the 114th Congress, Baldwin serves on the U.S. Senate Committee on Health, Education, Labor and Pensions (HELP); the Senate Budget Committee; the U.S. Senate Committee on Homeland Security and Governmental Affairs; and the U.S. Senate Committee on Appropriations.
In the U.S. Senate, a top priority of Tammy's is working to build a "Made in Wisconsin" economy by investing in research and science; innovation and technology; and education and job readiness for advanced manufacturing. Tammy is committed to working across party lines to strengthen the essential pillars of economic security for the middle class – affordable higher education, quality health care, a strong manufacturing economy, and retirement security for today's seniors and future generations.